A mangrove tree in Darwin, Australia
Darwin is the capital of Australia's Northern Territory (aka the country's 'Top End'), the least populous of Australia's eight major states and territories. While the territory's interior is known for its vast and arid outback, the northern coast features wetlands and mangroves. As you can imagine, the area's climate is tropical, frequently humid, and prone to cyclones and monsoon rains.
Mangroves are adapted to saline conditions.
A cluster of mangroves on the banks of Vellikeel river in Kannur District of Kerala, India CC BY-SA 3.0
Because mangrove trees thrive in saline intertidal environments, they act as a bulwark against erosion, their huge and elaborate root systems dissipating wave energy. Mangroves also provide shelter and sustenance for a variety of creatures—including birds, fish, crabs, and crocodiles—here on Darwin's shores. ( information for bing image of 30th May, I am waiting for permission to use it since it is copyrighted to louise Denton at Printerest ) https://wallpapercrafter.com/130895-nature-landscape-trees-plants-river-sky-clouds-water-long-exposure-mangrove-australia.html However this image seems to be everywhere, you will find it through the link on an American site.??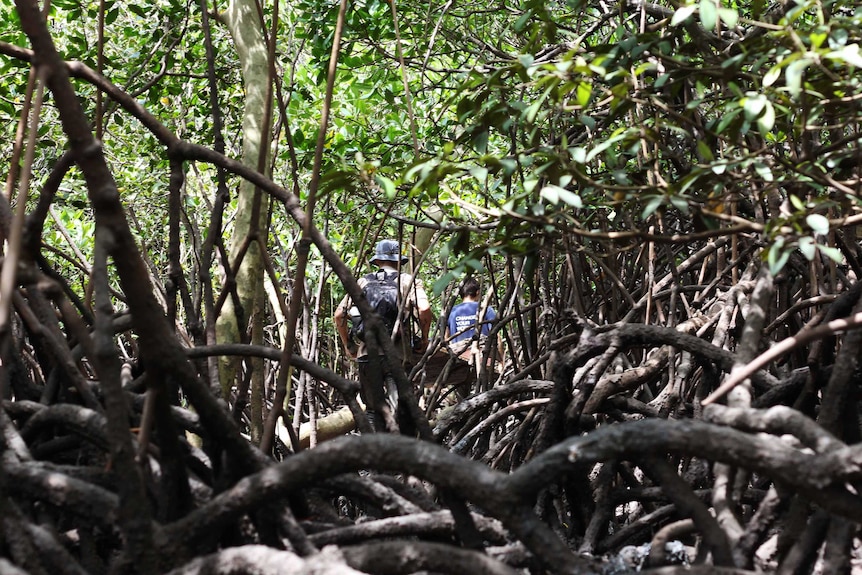 More than 40 per cent of Australia's mangroves are found in the Northern Territory.(105.7 ABC Darwin: Emilia Terzon)
Outline:
Australia has approximately 11,500 km of mangroves, primarily on the northern and eastern coasts of the continent. Areas where mangroves occur include the intertidal zone of tropical, subtropical and protected temperate coastal rivers, estuaries, bays and marine shorelines. Less than 1% of Australia's total forest area is mangrove forest.
Although mangroves are typically found in tropical and subtropical tidalareas, there are occurrences as f…Wikipedia · Text under CC-BY-SA license

Flora:
Australian mangrove forests comprise 45 plant species from 18 families, which is more than half the world's mangrove species. One tree species, Avicennia integra, is found only in Australia – in the Northern Territory, east of Darwin.
Each mangrove tree species is specific to particular latitudes and levels of tidal inundation. The greatest diversity of species is found in the far northern and north-eastern areas of Australia, and declines rapidl…Wikipedia · Text under CC-BY-SA license
Associated Fauna: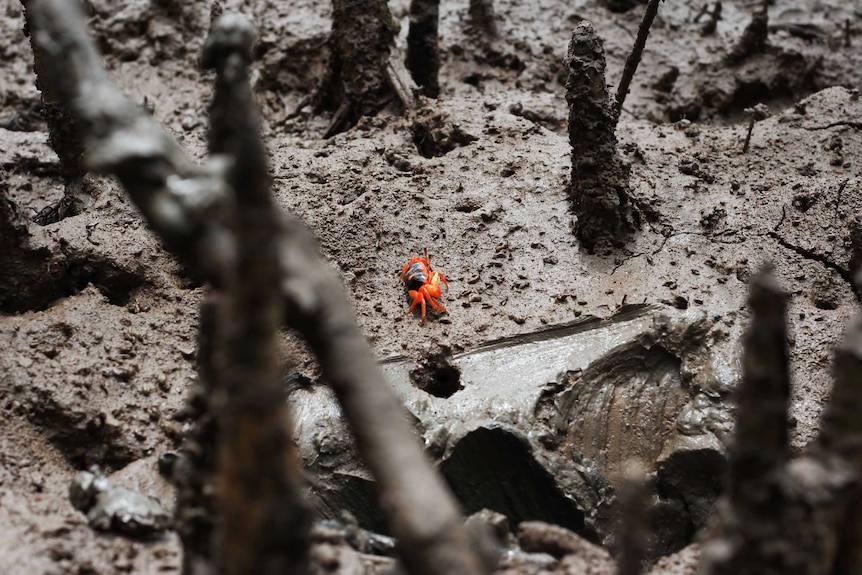 Mangroves support many species of fish and other marine life.(105.7 ABC Darwin: Emilia Terzon)
Mangrove forests provide breeding nurseries for a wide range of fish and crustaceans, including many species of commercial and recreational value, for example, barramundi (Lates calcarifer), mangrove jack (Lutjanus argentimaculatus), mud crabs (Scylla serrata) and banana prawn (Penaeus merguinensis). The forests also provide a habitat for spat settlement and development of oyster species.
Many terrestrial fauna, such as insects, reptiles, frogs, birds and mammals, use mangroves for food, sh…Wikipedia · Text under CC-BY-SA license
Economic Values:
Mangroves protect coastal areas from erosion, storm surge, and tsunamis. The massive root systems of mangroves are efficient at dissipating wave energy. Mangroves retard the tidal movement of water, allowing sediment to be deposited as the tide comes in, and leaving all except fine particles when the tide ebbs. Mangroves therefore build their own environment.
The commercial and recreational fishing industries are prime beneficiaries of mangrove forests, which …Wikipedia · Text under CC-BY-SA license
Threats:
Threats to mangrove ecosystems include;
• coastal modifications such as reclaiming land (e.g. for building canal estates and marinas);
• erosion of shorelines in coastal lakes and estuaries;Wikipedia · Text under CC-BY-SA license
Protection and Preservation:
About one third of the total area of mangrove forest in Australia is privately owned, including Indigenous reserves. Approximately 18% of Australia's mangrove forest areas fall under the protection of National Parks and other reserves.
Mangroves are protected in Queensland under the Fisheries Act 1994, and in Western Australia under the Wildlife Conservation Act 1950.Wikipedia · Text under CC-BY-SA license
See also: • Changes in global mangrove distributions
• Ecological values of mangrovesWikipedia · Text under CC-BY-SA license
External Links
How Darwin's iconic mangroves are fighting back against rising sea levels and climate change:
ABC Radio Darwin / By Emilia Terzon Posted Wednesday 4 May 2016 at 10:45am, updated Wednesday 4 May 2016 at 12:23pm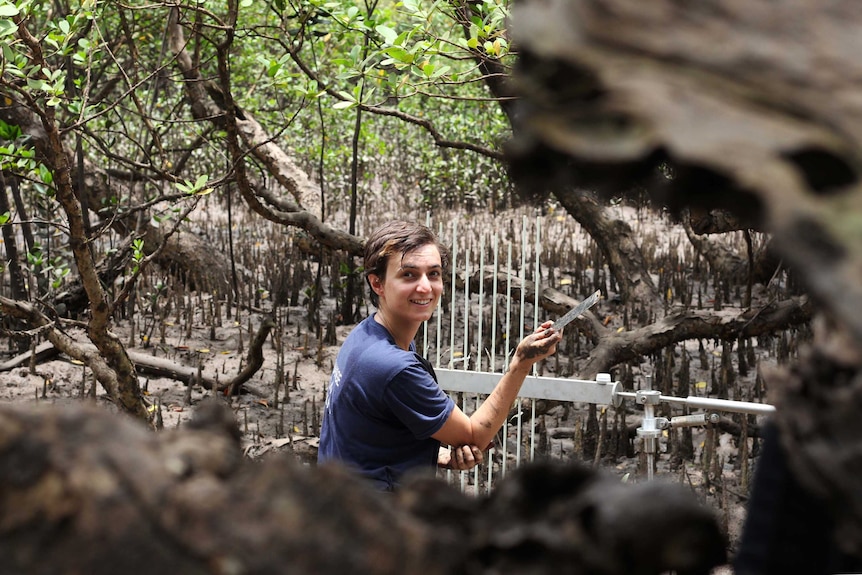 Ms Goddard is studying the impact of rising sea levels on Darwin's mangroves.(105.7 ABC Darwin: Emilia Terzon)
" Darwin's mangroves appear to be fighting back against climate change, but it is unclear if the spindly plants will win their unique race to grow above rising sea levels." ABC Radio Darwin / By Emilia Terzon
From the easily unearthed Wikipedia article we know "why Darwin", unfortunately other sites either also use Wikipedia else contain less succinct information.